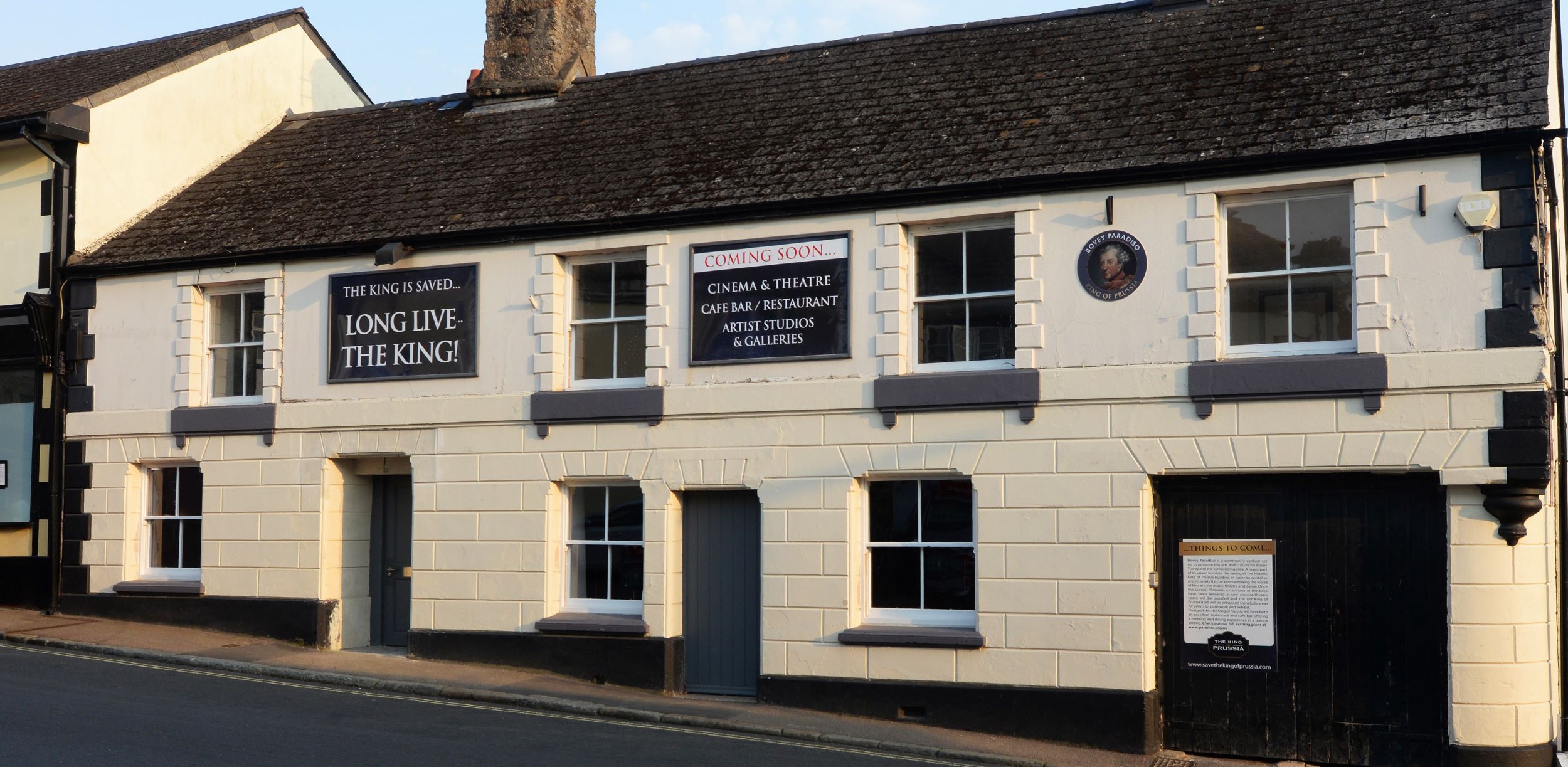 Welcome to Bovey Paradiso
Our vision is to create a lively community arts and entertainment centre in Bovey Tracey. We have given the 16th century King of Prussia building located at the top end of Fore Street a new lease of life. The restoration of this Tudor building now includes an art gallery (since June 2021), four artists' studios and a meeting room seating 11 people, for more detail select top menu 'Art Gallery' and select 'Meeting room'. Please come along and visit our gallery. we aim to change exhibitions approximately monthly. You can also contact us on any subject by selecting top menu 'Contact us'.
Following our second community share offer which raised over £100,000, and with the grants we have obtained, we have now started the development of phase 2 of the project. This phase is the development of a well-equipped kitchen and high-quality restaurant which will be open in the Summer 2022. We will send Newsletter updates advising progress in due course.
When funding is available, the final phase of development will be a cinema / theatre with almost 100 seats, for more detail select top menu 'About us' and select 'Plans'.
Bovey Tracey Paradiso Arts Ltd. is a charitable Community Benefit Society owned by over 400 Members holding community shares. Including donors around 600 people in our community are stakeholders. Huge thanks go to the holders of our community shares, donors and volunteers for giving their time to make this project possible.
In addition to our community supporters, we have received support from Big Society Capital and generous funding from the grant organisations shown below.
Funding
We still need financial help to complete this exciting project. If you'd like to help by making a donation, please visit the gallery where you will also be able to view the latest exhibition, or you can donate online, just click the button below.
Your help is much appreciated.

Next Event
The Urban Environment

Thursday 09 June 2022 to Saturday 09 July 2022

Featuring the amazing imagined spaces of Sue Williamson alongside the wonderful paintings of Rod Ashman SWAc, Andrew Lucas, Tony Homer, Richard Thorn SWAc, and other talented local artists, this exciting show explores the many facets and environs of our towns and cities.
Latest News
Friday night 27th May was auction night at Bovey Paradiso! What a fantastic evening it was. The proceedings were opened by the Bovey Tracey Mayor, Cllr. Sheila Brooke and hosted, with no little flair, by Paradiso Director, David McGahey (pictured).

The Gallery @ Bovey Paradiso is holding our first charity art auction! Our charity auction will be held live in The Gallery on 27th May at 7pm. MORE DETAILS HERE. .

Bovey Tracey Paradiso Arts Ltd AGM The fourth Annual General Meeting (AGM) ofBovey Tracey Paradiso Arts Limitedfor the financial year ending30 June 2021 will be held onTUESDAY 15TH FEBRUARY 2022at 7pm The meeting will be held via Zoom If you are a member shareholder and have not yet received your invitation and joining details please email info@paradiso. org. uk .