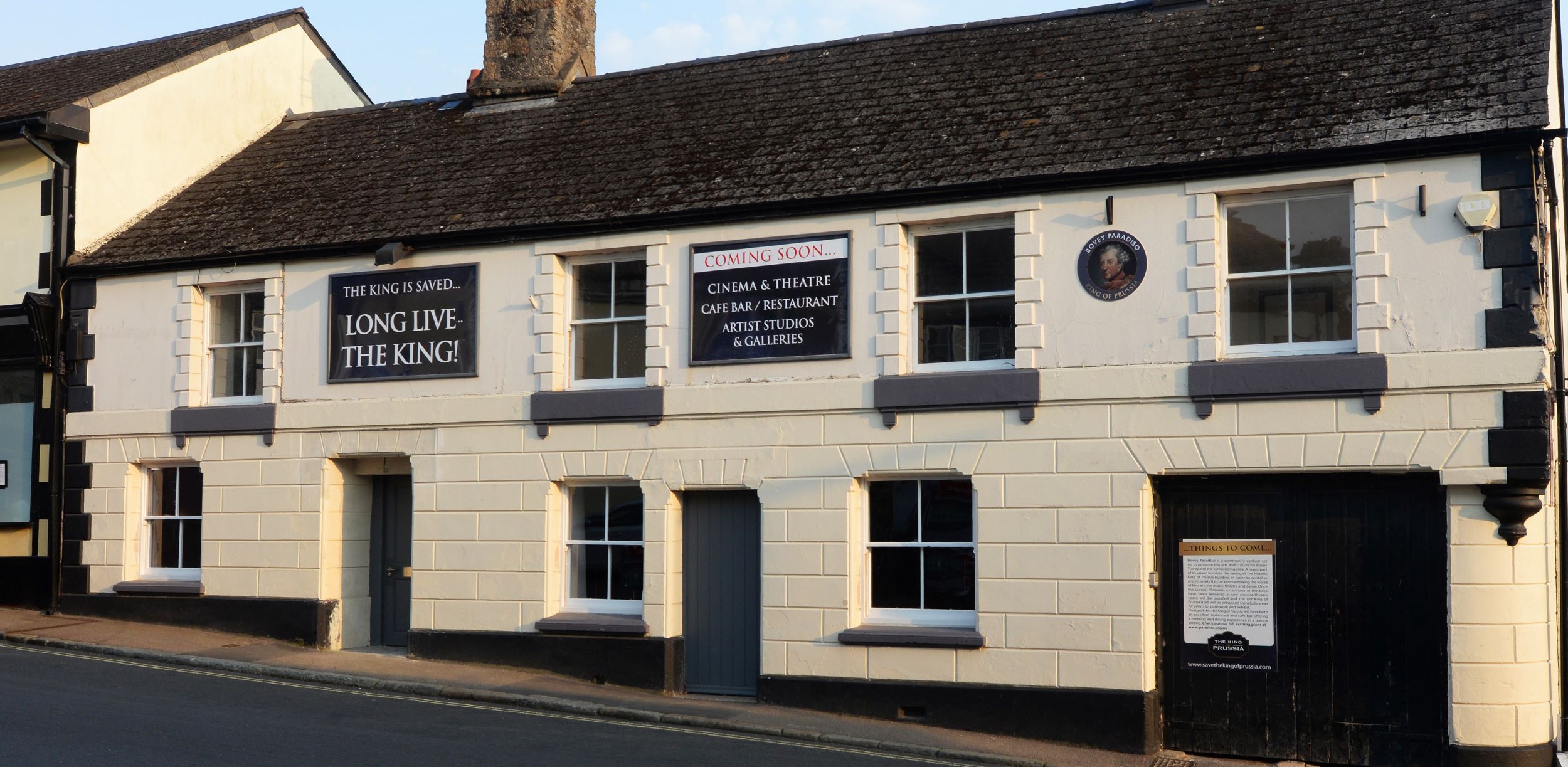 Welcome to Bovey Paradiso
Together we can create a lively community cinema, theatre, arts, and entertainment centre in Bovey Tracey. The King of Prussia Arts Centre will give a new lease of life to this 16th century building, offering an art gallery and four artists' studios, a cinema and theatre with almost 100 seats, a café bar and a high-quality restaurant. This January you can help make this happen.
A chance to own a little slice of Paradiso
Our second share offer remains open for a few more months. We need to raise at least £400,000 to get the cinema, theatre and restaurant built and finished. Now is your chance to become a Member with community shares and help us make this happen.
Huge thanks go to our existing community shareholders, donors and volunteers for giving their time to make this project possible. Now, there is another chance for even more people in Bovey Tracey, Heathfield and neighbouring villages to help out and be part of this bright future for our community.
Click here to find out how you can help make this happen
Bovey Tracey Paradiso Arts Ltd. is a Community Benefit Society currently owned by over 300 Members. In addition to our community supporters, we have received support from Big Society Capital and generous funding from the grant organisations shown below.
Funding
We are still accepting donations for this exciting project. If you'd love to help us finish Bovey Paradiso, but don't wish to become a Member with community shares, then click the button below.
Your help is much appreciated.

Next Event
Printmaking

Wednesday 20 October 2021 to Saturday 13 November 2021

We are excited to curate a fascinating exhibition exploring the depth and variety within the printmaking medium.
Latest News
Bovey Paradiso AGM The Annual General Meeting of Bovey Tracey Paradiso Arts took place on Thursday, 11 February online via the Zoom platform. Given the circumstances there was a great turn out of member shareholders. In addition to the Chairman's report from Stephen Willmore, presentations were given on the Finance Report by David Alexander and a report from the Architect, Dawn Presland.

It's official, we have launched our second community share offer, you can now help us finish the job to open Bovey Paradiso Our vision is for a place of fun, imagination and togetherness on everyone's doorstep. The historic King of Prussia will have a new life and purpose for the people of Bovey Tracey once again. Bovey Paradiso will be a focal point for the local arts scene to showcase local artists and drama groups, as well as an airy, open communal gathering place to meet and socialise.

From the Chairman: Dear Reader, Well, this year has been a challenging year for all of us in all sorts of different ways. For Bovey Paradiso things were moving along so well until we were into March then for quite some time everything stopped. When we started back up it wasn't easy with all the difficulties of social distancing for our contractors and making it inappropriate to deploy volunteers.