Gallery
The restoration of the historic building is completed and our Art Gallery is now open. Our normal business hours are Thursday and Friday 11:00 am until 4:00 pm, Saturday 11:00 am until 5:00 pm.
Please come along and see the beautiful pieces of art for sale.
at
King of Prussia Building, 83 Fore Street, Bovey Tracey TQ13 9HL
(top of the town, just before the Bell Inn and the Whisky Distillery)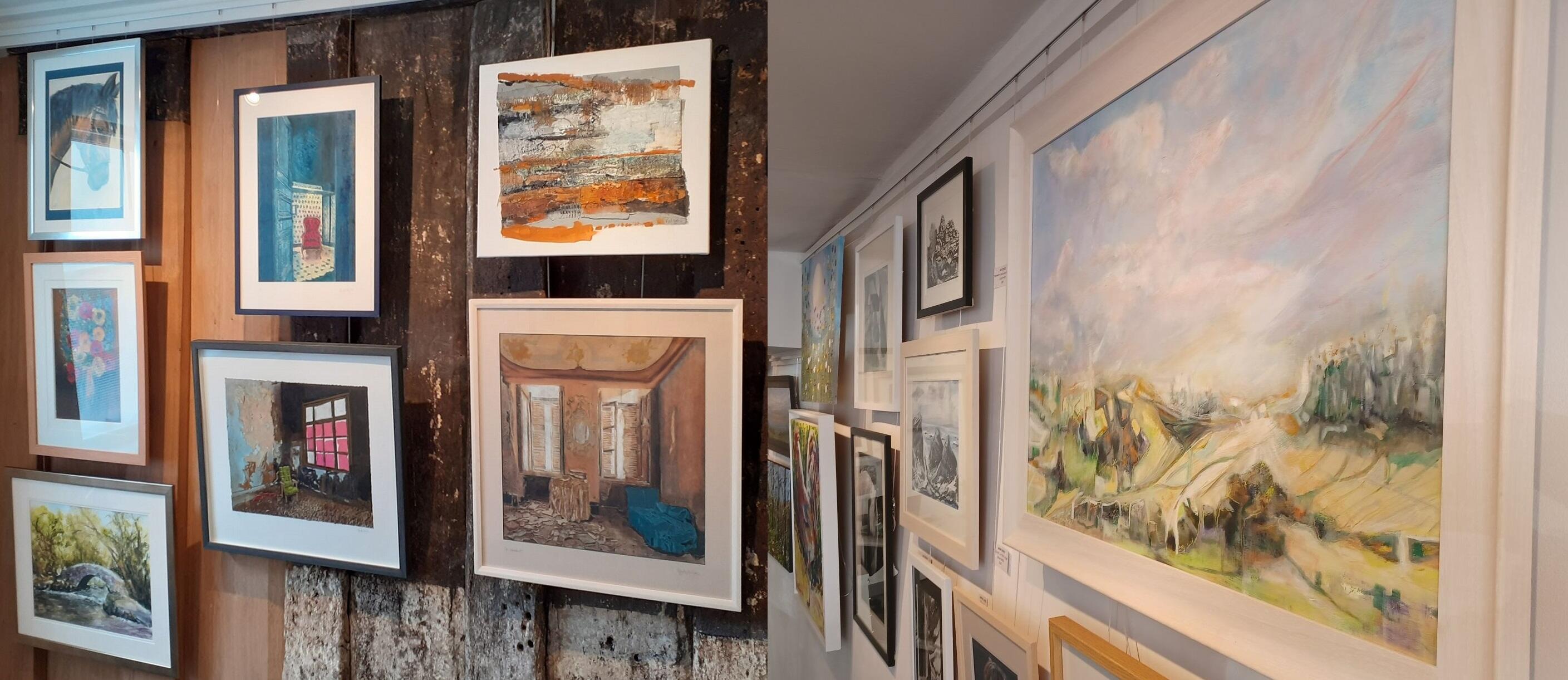 Dear potential exhibitor,
Thank you for your interest in exhibiting your work at The Gallery @ Bovey Paradiso. Please see below the policy for use of The Gallery @ Bovey Paradiso. Please use this as a guide when completing the exhibition proposal form which can be downloaded at the bottom of this page. If you do not have a facility to print the form please contact us, as noted at the bottom of this page, and we will post the form to you.
The Gallery's mission is to 'To serve the community by welcoming all people to explore art, creativity, and our shared experiences.'
We value your support and patience whilst we navigate and grow as an Arts centre. We are always open to engage with members of the public and value constructive ideas and feedback.
The Gallery @ Bovey Paradiso has the following spaces available for exhibitions:
Gallery 1- The first space as you enter the gallery at the bottom of the steps.
Gallery 2 – The second space on the other side of the Tudor screen. This exhibition space suitable for 2D and 3D works. (Please note the gallery does not currently have plinths for 3D pieces)
Aims:
The Gallery @ Bovey Paradiso aims to offer a varied programme of high quality temporary exhibitions, which will contribute to the town as a cultural centre both in local and regional terms. It will show historical and contemporary exhibitions on cultural themes to engage the public and develop new audiences In order to achieve this we aim to:
To advocate accessibility to arts and culture for artists and the Bovey Tracey Community
Create exhibitions that are enjoyable, inspirational and offer stimulating learning opportunities.
Produce exhibitions that encourage repeat visits by our existing audiences and develop new audiences.
To advance artistic excellence, innovation, and creativity for the benefit of artists and the Bovey Tracey Community.
To provide much needed exhibition space for artists, students, and community projects.
To encourage exhibition and event proposals from students, creatives, artists, and community groups (including local schools).
For the gallery to offer a welcoming centre for community engagement, exploration and enjoyment of contemporary art and cultural events.
To enhance people's lives through fun, inspiration, creativity, and self-expression.
To be a warm and welcoming environment.
The aims of those exhibiting in the gallery will need to reflect the aims of The Gallery and the Paradiso as a community project.
Exhibitions will be selected based on the following criteria:
Audience Appeal – ability to engage, breadth of appeal, relevance to a stated audience.
Quality – standard of work appropriate to the nature of the proposed exhibition and the venue.
Links & significance – local or national significance, Devon connections, educational potential, partnership potential.
Practicalities and potential cost – consideration of any practicalities or costs in hosting the exhibition: eg access and installation issues relating to size and weight of work, extra invigilation.
The ability to offer workshops.
The Gallery @ Bovey Paradiso will periodically review exhibition proposals.
We are developing a yearly calendar of events. We are delighted to have had so much interest and value all enquiries made to The Gallery so far. We will be working to ensure we try to showcase as many artists as possible including the work from local schools and colleges.
The Gallery is very much a work in progress. If you feel you might be able to support us through volunteering either time or expertise, please do get in touch using the Contact us' facility, for 'Nature of Enquiry' select 'Volunteering' and provide details of your enquiry.
If you have any question related to the Gallery please use the Contact us' facility, for 'Nature of Enquiry' select 'Art Gallery' and provide details of your enquiry.
Documents to download
Gallery Exhibition Application form

Added: 05 September 2021
Filesize: 0.18MB